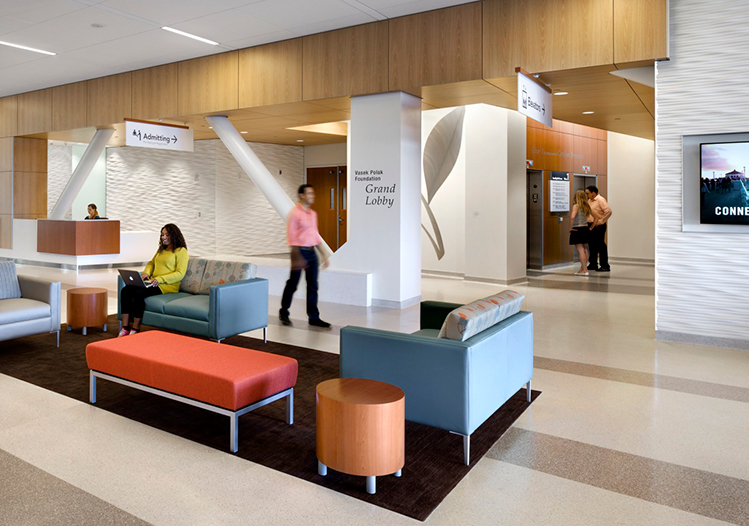 Arriving at and navigating a healthcare facility can be an uncomfortable experience. Patients, caregivers, and staff should be able to find the way to their destination with ease. Well-designed and integrated signage can help alleviate tensions by providing clean and easily understood information in a pleasing and complementary aesthetic. For more than 20 years, Square Peg Design (SQPEG) has been successfully employing these FOUR BASIC PRINCIPLES unique to healthcare wayfinding and signage:
UNDERSTAND THE USER'S EXPERIENCE
Understanding the patient/caregiver experience is essential. Early in the process, we gather and review any relevant background information: audits, surveys, and patient satisfaction data. We also interview key stakeholders, such as doctors, nurses, and administrators. The result is a better and holistic understanding for a strategic solution.
SATISFY USER NEEDS THROUGH STRATEGY
When healthcare signage is thoughtfully planned, it carries powerful messages that set the tone for the level of attention and care patients can expect. In our strategic approach, we consider multiple user paths and decision points, operational considerations, and a variety of implementation methods. We achieve this through universal numbering, colors, textures, and symbols—ensuring the information is translatable and easy to follow.
DESIGN WITH PURPOSE
Signs need to be visible, eye-catching and communicate information clearly and quickly. Additionally, healthcare signage needs to utilize a unique numbering system to meet threshold language requirements. Square Peg designs with these considerations in mind, increasing consistency while fostering higher comfort levels for users as they navigate the environment.
FOCUS ON DETAILS
We ensure program success and longevity by focusing on crucial fabrication and implementation details. Partnering with both the client and fabricator, we create a transparent, detail-oriented, and communicative environment. We then specify materials and products that balance being attractive, cost-effective, and robust. Finally, we make sure that fabrication methods are designed for scalable production that doesn't sacrifice quality, durability, or flexibility.
---
Meet Jeffrey Padia – Healthcare Director
Jeffrey leads SQPEG's global healthcare design practice.

"I love working on healthcare projects because I believe we are helping people in their time of need with information that is easily understood, informative, and not overwhelming. A sign system for a medical facility needs to have a strong base of static signage with various overlays of information. That information can take the form of universal department numbering or the latest handheld technology that can provide wayfinding information from your home directly to the appropriate location. I also enjoy the collaborative process with the project team, creating well-integrated spaces that are durable, flexible, and expandable well into the life of the building. At SQPEG we strive to infuse every project with a distinct sense of place, a connection to the community, and a recognition of wellbeing."
jeffrey@sqpeg.com
+1 510 830 4664
---
Here's to Your Health
Here's to Your HealthAs we return to work, social distancing will be essential to fostering a healthy and productive workplace. It's important that employees and visitors alike feel comfortable and safe in the workplace. We realize that in the world we live in today, every little bit helps, and no effort is too small. Square Peg Design would like to contribute in our own way. this link to download a PDF containing social distancing signage for you to print and display in your work environment: at entries, kitchens, bathrooms, and common areas. Please use them where they'll do the most good, and if there is anything else we can do, feel free to contact us. We're here to help.